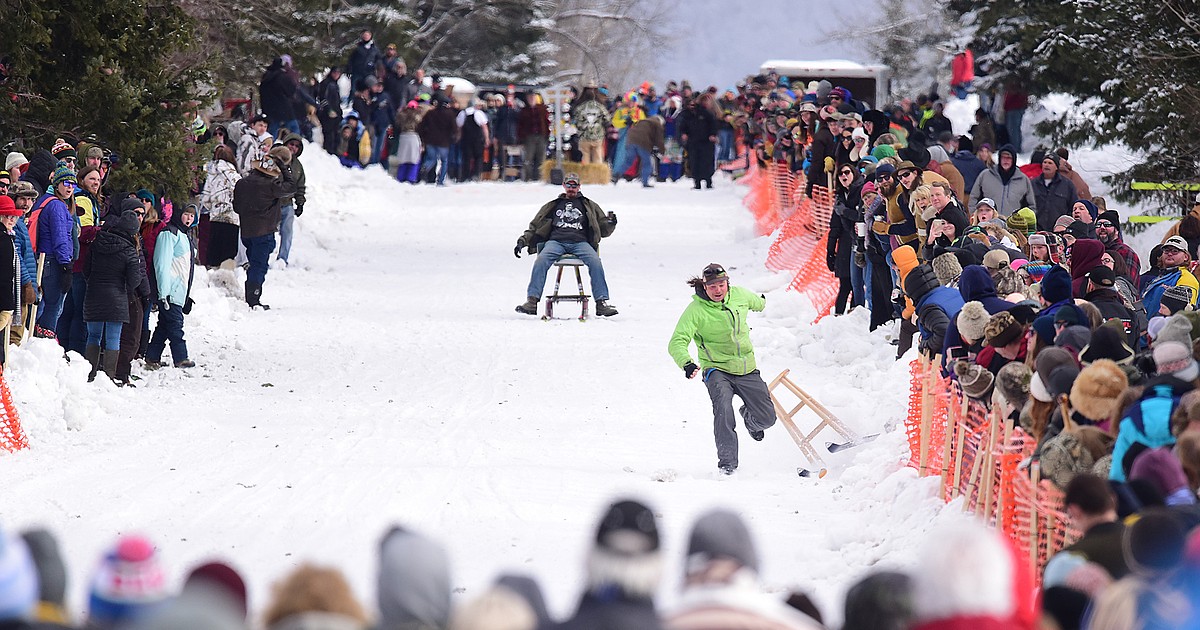 Upcoming Cabin Fever Days
News from Hungry Horse
The 43rd annual Cabin Fever Days is a few weeks away, but those interested in participating in the bar stool races on Sugar Hill in Martin City should register their sleds soon.
This year, pre-registration for the sleds is online and entries are due by Feb. 7, organizers say.
The registration form is available on cabinfeverdays.com. The cost is $20 per entry. The event is from February 11 to 13.
The races featured a multitude of different craft over the years, but the original and traditional sleds were bar stools with skis nailed to the legs.
Mike Murray, a bar stool runner extraordinaire, would come out of retirement to race down Sugar Hill again.
Organizers have added two more venues to the new Dew Drop Inn and the Paul Bunyan Bar. Additionally, there will be a live emcee at the top of the hill with music to announce the runners.
Qualifying races begin at 1 p.m. on Saturday February 12 and Sunday February 13 with the finals at 3 p.m. on Sunday.
Other events begin Friday with pool tournaments, mixed leg wrestling and a darts tournament as well as live music at local Canyon bars from Hungry Horse to Coram.
Saturday also includes an arm wrestling tournament at Stonefly Lounge, snowshoe softball and a mountaineer competition at Packer's Roost. The Mountain Man competition finals are Sunday at 5 p.m. at Packer's.
There are also children's sled races and other events at the Martin City Fire Hall.
Proceeds from the event annually benefit the Martin City Volunteer Fire Department, Hungry Horse Volunteer Fire Department, Canyon Rapid Response Unit, and other events and causes that enhance the community for residents and visitors.
For more information, including shuttle route, schedules and venue events, visit www.cabinfeverdays.com or email info@cabinfeverdays.com.