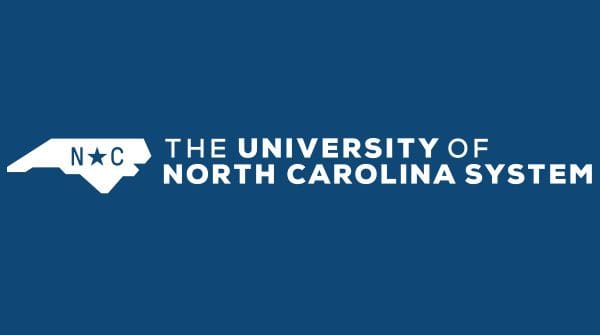 Students Selected for the 2022 Class of North Carolina Teaching Scholars
119 future teachers chosen for the competitive program
CHAPEL HILL, North Carolina – The North Carolina Teaching Scholars Commission has selected 119 individuals for the Class of 2022 of North Carolina Teaching Fellows.
Those named Fellows can attend one of the program's eight partner institutions: Elon University, Fayetteville State University, North Carolina Agricultural & Technical State University, North Carolina State University, Meredith College, University of North Carolina at Charlotte, University of North Carolina at Chapel Hill and the University of North Carolina at Pembroke.
The commission selected the winners after conducting interviews with each finalist. The commission received 203 applications.
"We are proud to welcome these faculty to the program, and eventually to the classrooms of North Carolina," said Peter Hans, president of the University of North Carolina system. "This program attracts some of the best and brightest in the teaching profession for the long-term benefit of the state and its K-12 students. To the new class of Fellow Teachers: Congratulations and thank you for your commitment to future generations in North Carolina. »
The commission considered cumulative grade point average, leadership and experience, awards and accolades, written essays and interviews to narrow this pool of applicants. SAT/ACT standardized test scores were again optional due to COVID-19 test cancellations.
The following individuals represent the North Carolina Teaching Scholars Class of 2022:
Abigail Bogle, Salisbury
Abigail Croke, Counsel
Abigail Dodson, Walnut Cove
Abigail Lassiter, Sanford
Adele Graham, Statesville
Alicea Davis, Fayetteville
Allison Curtis, Indian Trail
Alycia MorganRaleigh
Amanda Corbitt, Guangzhou
Amelia Barber, Raleigh
Anna Samuels, Clayton
Annah Smitherman, East Curve
Anneisha Mcwilliams, Burlington
Arianna Ferretti, Matthews
Audrey Hlavin, Apex
Brayden Hearn, Louisbourg
Brinson Edmondson, stringer
Brooke Amberg, New Hill
Calise Coleman, Bunnlevel
Carly Benfield, Newland
Caroline Aycock, Indian Trail
Charles Kellon, Knightdale
Charles Robinson, Salemburg
Charlie Hernandez, Dobson
Chauncey Barber, Mill Spring
Ciana Paye, Durham
Cierra Stanziale, Laurinburg
Cierra Wagoner, Lexington
Claire Parker, Hendersonville
Claudia Cetola, Cary
Courtney JohnsonBurlaw
Cynthia Liles, Durham
Daniel Russell, Carboro
Delaney Goard, Eden
Destiny McDaniels, Jacksonville
Diego Alonso-Galindo, Rocky Mount
Dominik Alston, Graham
Donnie Jackson, Laurinbourg
Earl Hahn, Yongin-Si (South Korea)
Ebony Maldonado, Winston Salem
Elizabeth Gauland, Greenville
Elizabeth Hronek, Winston Salem
Elizabeth Stack, Laurel Hill
Emily WorkmanRaleigh
Emma Tessneer, Apex
Gasoline Morgan, Greensboro
Grace Giandurco, Raleigh
Grace Mitchell, Raleigh
Gracie Gibbs, Candler
Hailey Reason, Hobgood
Isabelle Connolly, Charlotte
Jackson Busic, Clemmons
Jade Hepburn, Apex
James Britt, Winston Salem
Jania Mackey, Winston Salem
Jasmine Baker, Gaithersburg
Jathan Callahan, King's Mountain
Jessica Cotton, Jacksonville
Jessica Hollebrands, Cary
John Loomis, Cary
Kaci Denmark, Thomasville
Kaitlyn Lumpkin, Sanford
Kaleb Adair, forest town
Kara Snow, Raleigh
Kasey Knight, Rockingham
Katelyn Auman, Hickory
Katelyn Higgins, Cary
Kathryn Savell, Raleigh
Kelsey Lancaster, Dunn
Kimberly Ascencio-Cerna, Sanford
Kimberly Graham, Cerro Gordo
Kimberly Tomczak, Raleigh
Kristen MillsCharlotte
Lauren Dotson, Mill Spring
Lauren Dudley, Cary
Layla PowellRaleigh
Lea Patrum, Matthews
Liliana Spencer, Haw River
Lillian Fountain, Raleigh
Lisa Ponce Facundo, Black Mountain
Lyndon Cock, Davidson
MacKenzie Sawyer, Mooresville
Madalyn Craig, Goldsboro
Madalyne Payne, Mount Airy
Madison Matthews, Southern Pines
Makaih Bullock, Henderson
Margaret Barnette, Raleigh
Matthew Budidharma, Chapel Hill
Mattie Lehman, Black Mountain
Meredith StroudDobson
Mia Oldani, New Bern
Mia Venuto, Charlotte
Michtorie Medley, Gastonia
Natalie Clark Burlington
Natalie CottonJacksonville
Nicole Cardona, Waxshaw
Olivia Lasarsky, Huntersville
Riley Fennel, Burlington
Rita Cook, Pleasant Garden
Rylee Sherwood, Wilmington
Saniya Sampson, Waldorf
Sarah Barton, Eden
Sarah Carter, Cary
Savannah Dalton, Smithfield
Sha'Keya Floyd, Fayetteville
Sidney Beckham, Mebane
Sophia Gayoso, Charlotte
Tessa McElreath, Raleigh
Thomas "Hunter" Coffrin, Chapel Hill
Tonya White, Clarkton
Trinity Hood, Fayetteville
Trinity Moriggia-Snyder, Durham
Vivian Mazza, Clemmons
Yanara Sanders, Red Springs
Zacharie Mathis, Lowell
Zenobia Williams, Garner
Zoe Campbell, Durham