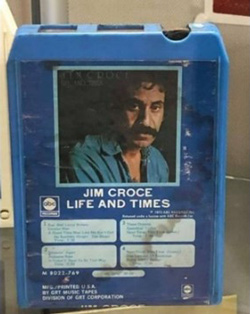 Songs that bring him back to the summer side of life – Hamilton County Reporter
By SCOTT SAALMAN
scaramouch
"Because it's summer / Summer is here / Yes, it's summer / My time of year." – War
My favorite summer songs are those that are soundtracks to a specific memory or just evoke a general sense of the season.
My auditory memories remain as indelible as the smell of roadside honeysuckle and the sweet air of candied cotton at the Fourth of July fair; the feel of a first baseball glove snug on my left hand; firefly light shows at dusk lingering on my rural road childhood backyard.
"Bad, Bad Leroy Brown" played every time my parents' car drove. by Jim Croce life and times was our only 8 track. Finally having a "modern" car with an 8-track tape recorder represented for me the birth of music. The 8-track plastic cartridge was powder blue. The label, showing a pensive-looking Croce, all mustachioed and in jeans, was seething in the southern Indiana summer heat. A burning smell emanated as the magnetic tape made its squeaky loops. I was 10 years old when I first heard the song's boogie-woogie beat – and here I am, 47 years later, still remembering it.
I also remember the song playing on the insane sounding AM radio station as my uncle and aunt drove me to the city pool. My backseat cousins ​​and I sang shamelessly, plus we shouted, the "baddest man in all DAMN town" part with devilish liveliness. The adults were also singing, laughing too. After the song, a DJ mentioned that Croce had died in a plane crash the previous fall. The heaviness of the news clung to me like an anchor as I sank to the bottom of the city pool where I sat with bated breath and tried to fathom Croce's fate. I'm still that runny boy, sometimes, still grappling with the loss of a legend that created Leroy Brown.
When I was 19, I was illegally served beer at a dive bar in a small river town. I fed the jukebox endlessly, lining up for reruns of "Bad, Bad Leroy Brown" while dancing with local, tough river rat girls; their ugly 80s hair was frizzy from the August humidity; the day has become a blur of drunken feet on old, worn and warped wooden planks, the shuffling and scuffing of each shoe resembling the strike of a match, perhaps warning us of the fine line that exists between a party and a powder keg. " . . . Badder than old King Kong / Badder than a junkyard dog.
"Jungle Love" by the Steve Miller Band transports me back in time to the sawdust grounds of the Tell City 4th of July picnic. There was the Pirate Ship funhouse with its hall of mirrors that transformed my body into various grotesques. I entered a narrow, black-as-black passage where fleshy, unseen hands slipped through holes in the wall to assault us. Outside I spent gambling – ring tossing; paddle wheel; grumbling, ruthless biddies playing bingo – and gravitating around the terrifying Tempest. The ride's four pastel-colored cages moved in synchronized tilting revolutions as the bored, cloudy-eyed ride operator ignored loose screws and nuts and throttled the noisy motor. The speaker yelled, "Love of the jungle, it drives me crazy, it drives me crazy. . ."
Boston's "Foreplay/Long Time" finds me seatbeltless in Uncle Rick's cherry-red Pontiac LeMans hurtling down a twisty, two-lane roller coaster-like freeway. I'm in the back, well wedged between two high school girls – a good concert for a college student. The girls sang the count of every car we passed (no-pass zones be damned). "Six seven . . . " "Time doesn't wait for me / It keeps rolling . . . The hell car tried to take off at the crest of every hill. " . . . Sailing on / A distant highway, yeah. . ." I imagined adjacent cornfields ignited by the sparks created by the impact of the creaking undercarriage on the concrete. Up front, Rick and his buddy (whom he referred to as "shotgun" earlier) laughed maniacally while the screaming girls dug their sharp nails into my skinny kneecaps. " . . . eight . . . new . . . "
At two minutes and five seconds, "Do You Believe in Magic?" from The Lovin' Spoonful? is the perfection of summer air. It never fails to deliver jolts of pure, positive, summery energy, erasing my worries like a shaken Etch-A-Sketch. Even though the song never mentions summer, and even though I was a baby when it first aired on the radio in the summer of 1965, "Do You Believe in Magic?" has become the sun of my universe of summer songs. Why? Maybe the 45 rpm record played on mom's turntable and soothed me through restless nursing bouts, the song forever sung in my subconscious, a reminder of a patient mother's magical touch, her warmth.
"The Swimming Song," by Loudon Wainwright III, recalls the carefree sounds of last summer's springboard and the feeling of being a child momentarily up in the air, shouting "Cannonball!" just before the splash, sending tiny tsunamis towards unwary swimmers at the poolside. This less than three minute banjo song shows how the best songwriters can say so much in so little time: "This summer I made swan dives / And knives for y'all / And once when you weren't looking / I made a cannonball." I feel the urge to dry off after every listen to Loudon, but I'm still compelled, once again, to warn the world, "Cannonball!"
(Editor's note: Scott doesn't condone underage drinking or swearing; he just remembers it. Kids, never confuse a writer with a role model.)
Contact: [email protected]. Buy Scott's books on Amazon.