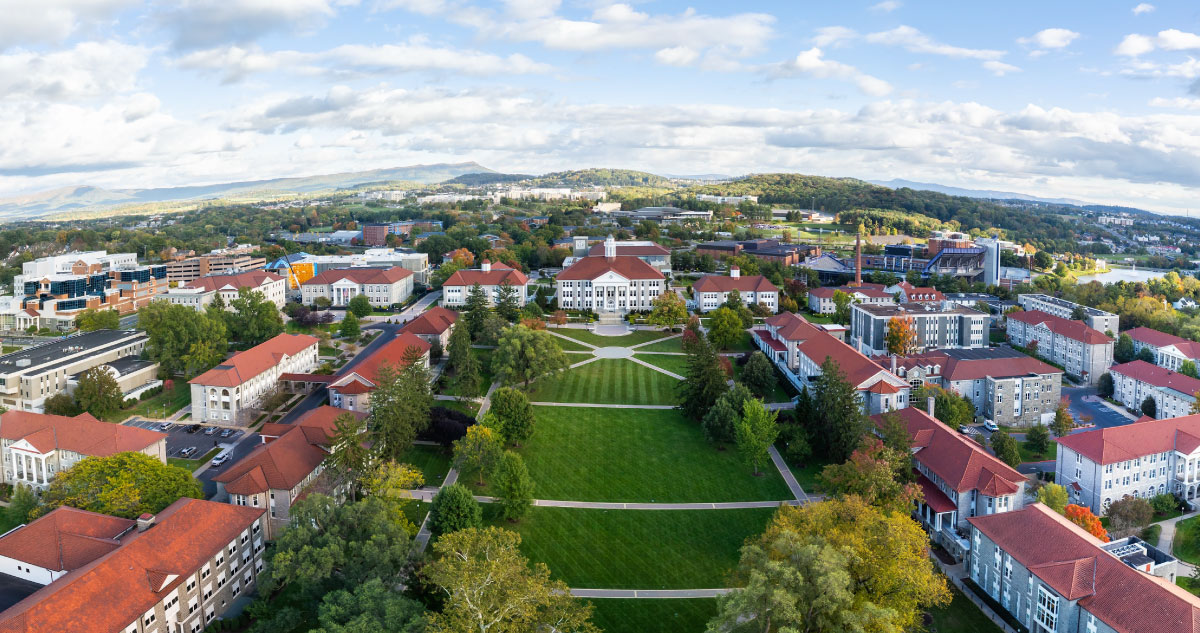 SADAH alum transforms a pop-up art space into a permanent gallery
SADAH alum Lacey Vilandry (BFA '17) recently opened her gallery, The Pigment Sanctuary, in Princeton, W.Va. It's a brick-and-mortar version of a tented gallery and studio that she and her friends created eight years ago at the Fête de la Musique mountain, which continues in June with 31 participating artists. Here, she talks about the gallery's arts education mission and several projects with a local non-profit group.
"The Pigment Sanctuary just needed a little push from me. We got together eight years ago when a group of artists who wanted to go to concerts paint all the time. There is a special camaraderie that comes from spending weekend after weekend, festival after festival, painting after painting. We soon realized that what we could create together was better than competing with each other. We set up galleries under the same tents, sometimes as small as a 10×10 awning, sometimes a circus tent that required the construction of two medium-sized elephants. We had as many triumphs as tragedies, and those who remained in adverse conditions – even a tornado once – are what make up The Pigment Sanctuary.
My business partner, Ashton Hill, was the first to launch live paint galleries for our team, and Mountain Music Festival has been The Pigment Sanctuary's family reunion from the start. It was in the summer of 2018 that Ashton and I began discussing formalizing The Pigment Sanctuary as a collective, but it wasn't until I moved to Princeton, WV in December 2019 that I started pushing for a permanent seat. Because of this city's immense support for the arts and the low cost of living in the area, I knew it was the perfect place to put down our roots. After looking at a few locations, we settled on a 1200 square foot space that at the time was a cafe overflow and storage. Ashton and two other Pigment Sanctuary members moved to town shortly after we started renting the space, and the gallery took just over six months to build. We wanted our gallery to be as unique as our artists' journey. We designed it to be a whimsical deep forest scene, but also a cozy space to relax, drink coffee and take workshops.
Arts education has become an integral part of what we do. We have taught workshops at festivals and separately, so it was important to incorporate them into what we do here at Princeton. Over the years we have learned so much from each other that we want to be able to share it. There is a real need for workshops and art classes in this area, to try to capture what public schools cannot reach. Between multi-day intensives, introductory courses to master's level courses, professional development and artistic evenings, we hope to reach everyone, regardless of their background, age, financial situation or ability. artistic.
Ashton led our first seminar in Virginia with Master Mischtechnik Phil Rubinov Jacobson. It was three weeks at the White Lotus Resort outside of Charlottesville, and we are looking to continue to grow with more teachers coming from all over the country.
Beyond what The Pigment Sanctuary does directly with mainstream art, several PS members and I also work closely with the RiffRaff Arts Collective. This is a 501c3 organization led by Lori McKinney (another JMU graduate), focused on revitalizing struggling downtown areas in southern Appalachia through the arts. With them, I started a monthly fine and folk art market called the heART market, which is free for sellers and helps budding entrepreneurs at the start of their artistic journey.
Another project with the RRAC is a food forest initiative. When I first moved to town, I started pushing the idea that grasslands should grow food instead. After almost two years, it is happening. The city gives us property to cleverly run a food forest, and if all goes well, they're going to give us properties in every neighborhood of the city. The primary effort is to end hunger in the city, and the secondary is to commission as many local installation artists as possible. Each garden will have a theme that will dictate the composition of the garden and the art. We want to incorporate as many native plants as possible as we go, which will help create a stable ecosystem that will restore the soil and continue to grow if there is a time when it does not receive regular maintenance.
Last year I led a community mural through RiffRaff called Memories on Mercer Street. It was designed by Ellen Elmes, who specializes in depicting peoples' stories through murals. It was printed on fabric in grayscale on 18 5'x3′ panels. I ran community paints, where I mixed paint and guided people through the process like a paint-by-number. The inspiration for the design was the stories of people who grew up here and saw the neighborhood's golden age. We had a storytelling night on Zoom where people told us what it was like growing up here.
I recently received a grant from the West Virginia Commission of the Arts, funded by the National Endowment for the Arts, to paint educational wildflowers around downtown Princeton. Each mural will feature depictions of the plant's uses and scannable QR codes linked to additional information. I choose the location of each mural based on how "forgotten" a location looks. I've found that people will care more about a place if they can see its beauty, which starts with someone's ability and willingness to bring out that beauty.
Information about Pigment Sactuary workshops is available on their website.