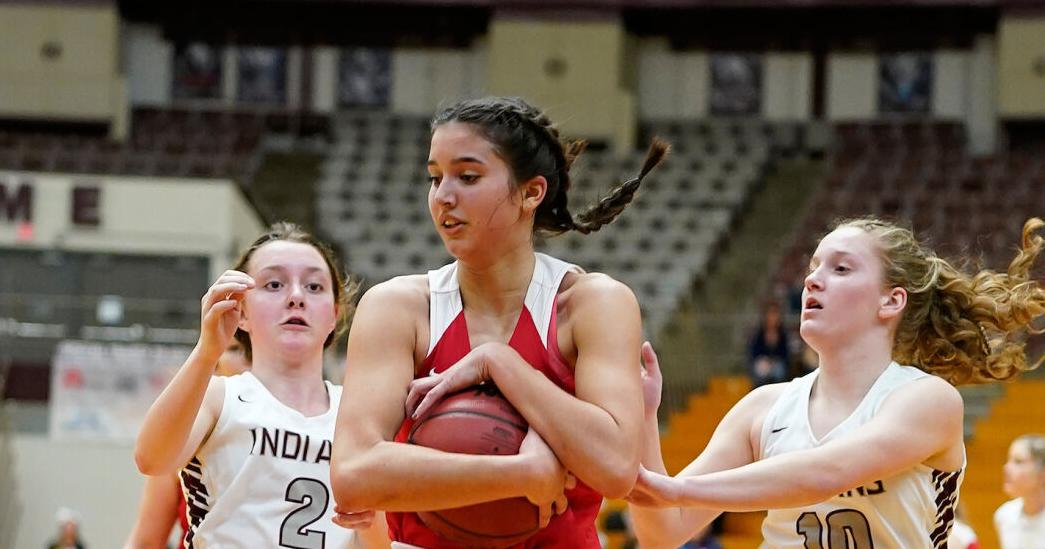 Roundup: Lady Patriots retains Tribe; Ridgeview girls win Mountain 7 title | Sports
KINGSPORT — The Sullivan East women's basketball team earned a solid non-conference win in their regular season finale on Friday night.
The Lady Patriots held off Dobyns-Bennett in a 57-51 decision at the Buck Van Huss Dome.
Riley Nelson became the club's 23rd member to 1,000 points from Sullivan East. Nelson, who finished with 15 points, joined teammates Jenna Hare and Hayley Grubb at the club.
Hare led the Lady Patriots with 21 points and Grubb added nine.
Olivia Doran led the Lady Indians with 18 points. Kaydence Black added 12 and Caroline Hill 11.
Ridgeview 69, Abingdon 41
ABINGDON – Ridgeview won the Mountain 7 District regular season championship.
Hailey Sutherland had 20 points, seven rebounds and six blocked shots to lead Ridgeview (19-3, 11-1). Braelyn Struth sank four 3-pointers and finished with 15 points.
Brooklyn Frazier added 10 points and six assists, and Caiti Hill had nine points and eight rebounds.
Sage Central 64, John Battle 45
NORTON — Emmah McAmis wore it down for the Lady Warriors (17-5, 9-3 Mountain 7), coming off for 29 points.
Isabella Sturgill hit three 3-pointers and added 11 points and Bayleigh Allison had 10 for Central.
Anna McKee had 20 points and Kara Kelley 12 for the Lady Trojans.
JI Burton 45, Castlewood 18
CASTLEWOOD — The Lady Raiders (12-8, 6-4) closed out their Cumberland slate with a runaway victory on the road.
Montana Sutherland had 10 points, six rebounds and two steals to lead the Lady Blue Devils.
Daniel Boone 59, Tennessee High 34
GRAY — Josie Jenkins knocked down four 3-pointers and finished with 14 points in the Lady Trailblazers' non-conference win.
Savannah Jessee added 12 points for Boone (11-16).
Tri-Cities Christian 51, IC Imagine 15
ASHEVILLE, NC — Grace Williams had 10 points, 11 rebounds, five steals and three blocked shots for the Lady Eagles.
Michaela Dixon added 16 points, five steals and four assists. Madison Hoskins had 13 points and Savannah Barb had four assists.
---
BOYS
John Battle 72, Wise Central 37
NORTON — The Trojans got away with the Mountain 7 road win.
Nathan Spurling led a quartet of double-digit scorers with 20 points, joined by Noah Ratliff (17), Evan Hankins (13) and John Blankenship (11).
Ethan Collins had 12 to pace the Warriors.
Abingdon 80, Ridgeview 77, Ontario
ABINGDON — The Falcons tied the game at the buzzer to force overtime, then fought their way to a Mountain 7 win over the visiting Wolfpack (17-5, 7-5).
Abingdon (14-7, 9-3) avoided a three-way tie for second place in the district.
JI Burton 61, Castlewood 42
CASTLEWOOD — Zac Campbell knocked down 10 of 13 free throws en route to 19 points for the Raiders.
Clay Hart added 11 points for Burton, who opened a tight game by outscoring the Blue Devils 17-5 in the third quarter.
Daniel Boone 56, Tennessee High 37
GRAY – Brayden Blankenship totaled 16 points to beat the Trailblazers.
Creed Musick had 11 points, four steals and four assists, and Luke Jenkins had eight points, five assists and three steals.
Brandon Dufore scored 13 points for Tennessee High.