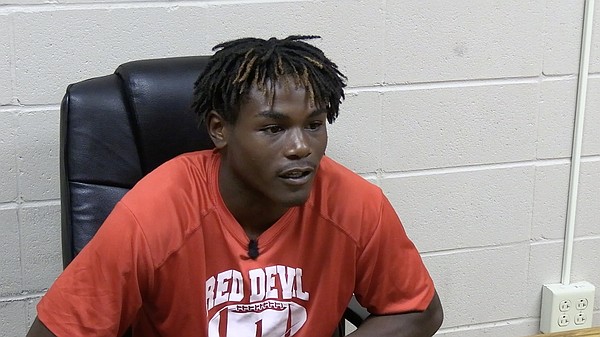 Miles dazzles receiving match for Mountain Pine
MOUNTAIN PINE – Scoring shouldn't be a problem for Mountain Pine on Friday night.
For the second time this season, the Red Devils will face Parkers Chapel, this time at Stanley May Field. Mountain Pine beat the Trojans 68-30 on the road in Game 3 of the season.
While the Red Devils (6-0) know they can score a lot against Parkers Chapel (0-6), head coach Daryl Scott wants to make sure his team doesn't give up another 30 points to the Trojans.
"I asked the kids not to try to neglect Parkers Chapel," Scott said. "We scored 68 against them, but we lost 30 points. That's what I'm trying to stop, giving up so many points. We gave up a few long passes just because we were looking in the backfield instead to look at our mission."
The Red Devils showed defensive improvement in their two games after the opener against Parkers Chapel, giving up a total of six points before allowing 32 against a talented Spring Hill side last week.
With some defensive questions still unresolved, the Red Devil attack is still thriving.
Video not playing? Click here https://www.youtube.com/embed/cYQDjrjJn9E
Mountain Pine boasts one of the best punches in 8-a-side football with offensive talents Isaiah Miles and Keelan Dobbins. After both earning All-State honors as running backs last year, Miles has excelled as a receiver in Mountain Pine's first six games this season.
"Since last year I've gone a little faster," Miles said. "So it makes me more open. That's really all I think about. Just more speed really. That's all."
Miles leads the team in receiving with 13 receptions for 364 yards and six scores. At the end of last season, Miles was only 85 rushing yards ahead of Dobbins. This year, Miles leads Dobbins by 206 rushing yards across six contests.
"He's a phenomenal receiver," Scott said. "He really is. He blocks well. He catches anything near him. Running the ball lately he's been struggling a bit. He's fumbled the ball a few times which I'm not sure about. not really satisfied, so we're kind of working on that. You know, safety of the ball. But to receive, just throw it up in the air and he'll go get it.
Although Dobbins passed Miles on the ground by more than 200 yards in the first six games, Dobbins collected 16 more carries than Miles. Whether Dobbins carries the ball or Miles catches it, the two players work in perfect tandem.
"It's good," Miles said. "It's good. None of us should have all the pressure on our backs at the same time. I know if I don't play a good game he will do it well. I know if he doesn't play a good game match, I know I'm going to do well. It's a win-win situation for both of us. It's good."
In the first fight against Parkers Chapel, Miles caught three passes for 90 yards and two scores, and Dobbins rushed six times for 191 yards and three scores.
"They're really, really impressive," Scott said. "It's a special thing to have them in the team. At the next level, whoever decides to have them, they're going to be very lucky to have them too."
Scott said he was "not at all" happy with the defensive performance against Parkers Chapel earlier this season.
"We're trying to focus this week on us," he said. "Not who we play, whatever. The problem isn't them. It's us. If we play our game, I think we can play anyone. But we haven't played a game yet. complete match as I know it."
Although the Red Devils have played Parkers Chapel before, don't expect Scott to add too many shiny new plays for the second contest.
"I would like to move forward and add things, but we're not doing the little things right that we already have in place," Scott said. "So we have to fix the errors and try to focus on that before we start installing new stuff."
From day one at Mountain Pine, Scott stressed that he wanted to reduce penalties this season. The idea of ​​better composure seemed to translate well to his players.
"A lot more disciplined than last year," Miles said. "We still have a lot of things to work on. Our line is doing well. Our defensive line, they help us a lot."
Even with a more disciplined attitude, the Red Devils still face bumps in the road.
"Well, it's like a roller coaster," Scott said. "Some weeks it's great. Some weeks it's not. It also has to do with refereeing. Because some are legit and some aren't. So we try to control what we mess up. , but some of the ones I can't find any penalty on the movie when I watch it."
Like many 8-a-side football players, Miles plays both sides of the ball. The elder admitted he got burned several times at the corner in the opener against Parkers Chapel but this time he is better prepared.
"I know which routes the receivers are going to take," Miles said. "Because the last game I was playing a corner against them. He got me a couple of times. Going back I feel like I know what he's going to do. We all know what they're going to do. Our defense is pretty nice too."
With a 6-0 record, an unbeaten season and a race to a third straight state title game seems entirely possible for the Red Devils.
"Everyone feels good," Miles said. "We have a few people who are really into it. We have a few people who are just nonchalant about it. But you know, I'm happy with that. Hopefully we go to the state championship again."