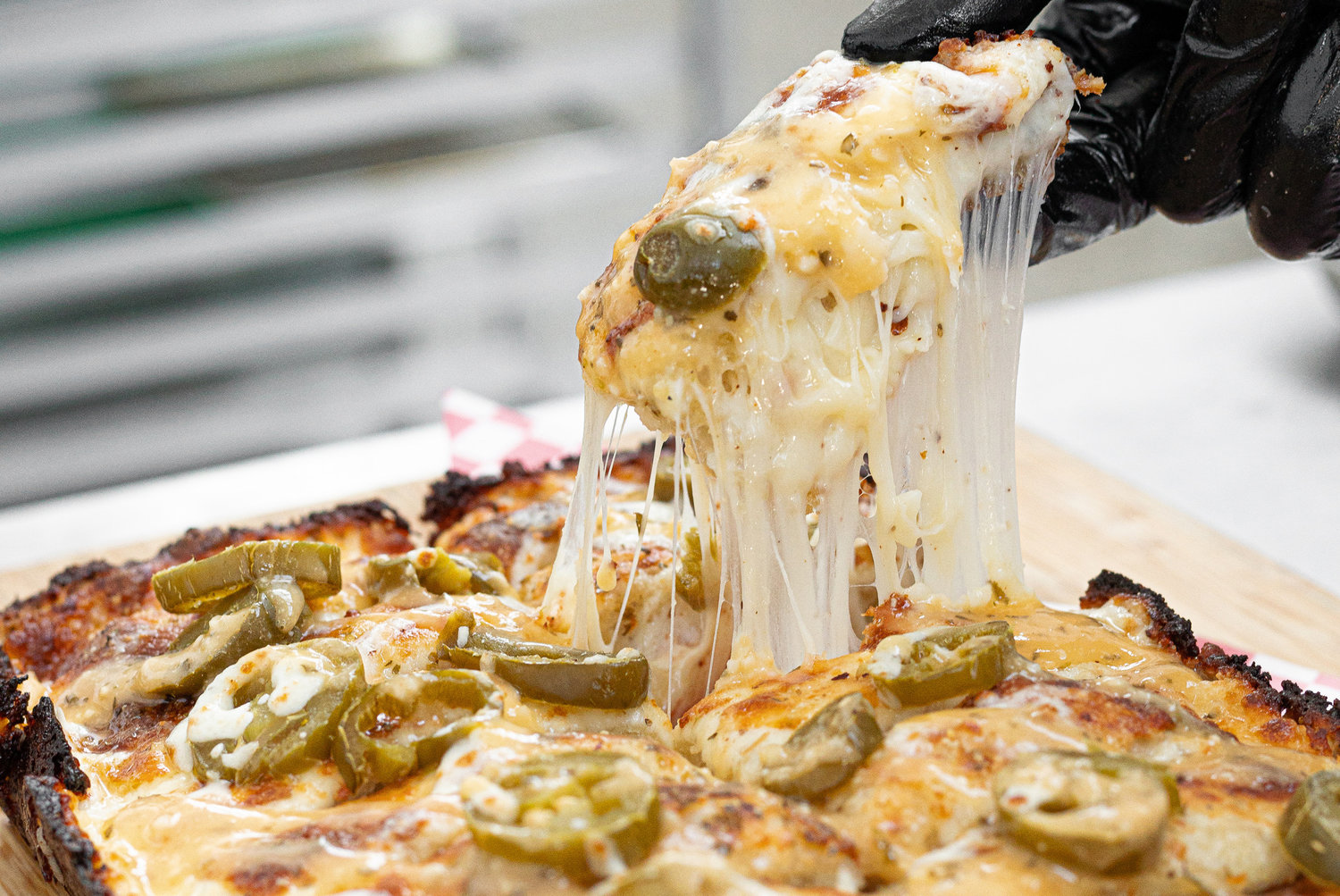 Food News: Guy and Staff Hire Pies, East Side Eatery Closes and Bodega Opens on Smith Hill
By Karen Greco and Abbie Lahmers
The guy behind the super pizza
One of Providence's best-kept secrets on the pizza scene, A Guy & His Pie started throwing pies in 2020, operating under the IFYKYK veil of Instagram posts sharing details of upcoming pop-ups as said "guy" was working on new varieties of 'za in a secret kitchen space – until he found himself with a waiting list of over 300. "It started out as a joke actually," says Brian who spent the COVID lockdown experimenting with recipes. "A friend of mine introduced me to Detroit Style Pizza and I was hooked. I just loved the focaccia style dough and the way the cheese caramelized on the edge of the pan.
With very few other pizza specialists like this in PVD, Brian quickly found his niche and expanded his reach by collaborating with the likes of CHOMP, PVDonuts, Mings, Masa Taqueria and The Dump Truck to introduce toppings always crazier. Now, from his Lorraine Mills kitchen, he's expanding the one-man show to hire staff, expand menu offerings (think cannolis and wings) and add hours to get more pies into the hands of his fans.
Bodega on Smith opens on Smith Hill
Ken Zorabedian, who created fledgling food delivery app DSAP, has teamed up with Johnston restaurateur Rick Melise to open Bodega on Smith. Zorabedian's original plan was for the storefront to serve as a distribution hub for DSAP. But the Smith Hill resident saw a unique opportunity to offer groceries and prepared meals in an area along Route 44 that is a veritable wilderness of fresh produce.
The micro-deli offers traditional deli sandwiches as well as a vegan menu (such as a teriyaki tofu sandwich and fennel and grapefruit salad) from chef Chris Collins, who embraced plant-based cooking when he was a kid. chief executive at AS220. As Bodega on Smith finds its footing, Zorabedian plans to expand its offering to include produce and meats from Rhode Island farms. A full liquor license is also on the horizon, as is a breakfast menu. "You can sip a mimosa while doing your Sunday morning errands," says Zorabedian.
Chez Pascal closes its doors
"It still doesn't feel real," says Kristin Gennuso, who along with husband Matt owns Chez Pascal. When they announced before the holidays that they were ending their 19-year run at the beloved East Side restaurant to head to Singapore for a once-in-a-lifetime offer for Matt to teach charcuterie, an outpouring of support flooded in the couple.
The Gennusos buy the restaurant from Pascal and Lynn Leffray. A consultant advised them to keep the name, saying it would entice customers to come in. Gennuso says, looking back, that was a mistake. "Rhode Island's food scene is wonderful. People like to try new places. She hopes that new owners, whoever they may be, will make the cherished place their own while acknowledging the wonderful community that comes with purchase. In the meantime, Gennuso, an avid reader, looks forward to finishing a book in less than two years. "A client suggested a Signorian author who writes food mysteries," she says, eager to dig in.