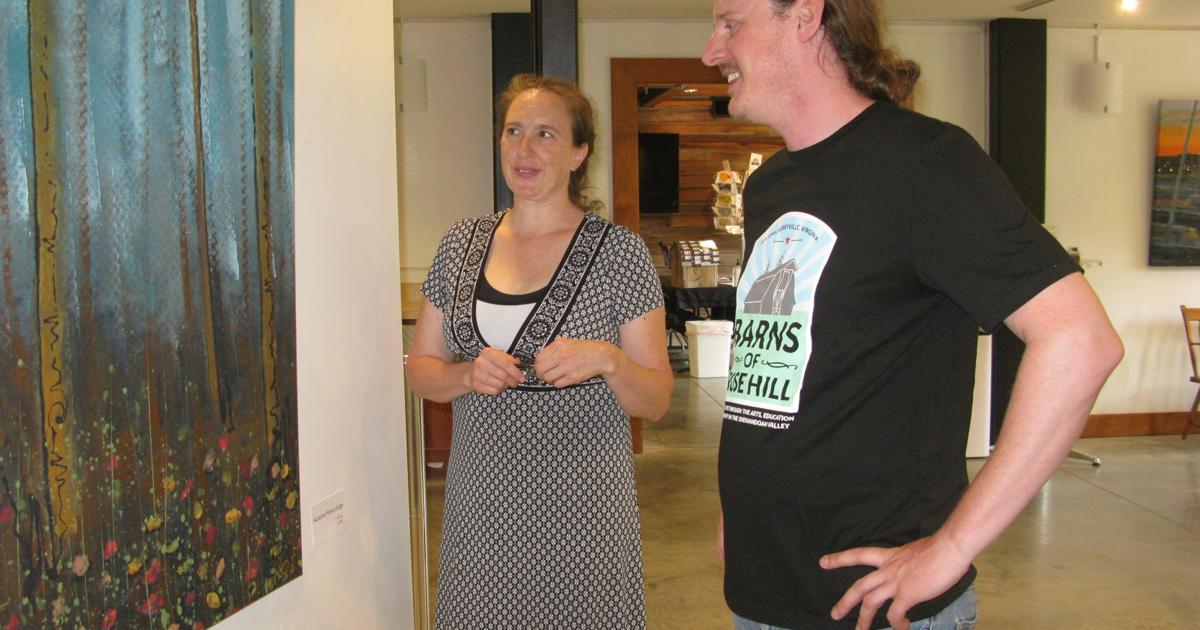 Departure of Morrison, Borger to oversee programs at Barns of Rose Hill | Winchester star
BERRYVILLE — Morgan Morrison is proud of how the Barns of Rose Hill has achieved a solid financial footing while becoming a popular arts and cultural attraction.
Still, "establishing a sense of community here is what I'm most proud of," said Morrison, program director of the Barns, who leaves Friday after 10 years with the nonprofit.
Nathan Borger, Chief Operating Officer, will add many of Morrison's duties to his list of responsibilities.
Opened in September 2011, Barns of Rose Hill offers live music performances, art exhibits and educational activities with a mission to enrich the lives of area residents. It takes its name from the renovated old dairy barns in which it operates near Chalmers Court in downtown Berryville, between the Berryville-Clarke County Government Center and Rose Hill Park.
Barns of Rose Hill sees visitors from all over the North Shenandoah Valley and the Washington, D.C. area who enjoy listening to acoustic music in a more intimate setting than, say, a bar or restaurant, according to Morrison.
People from all over the country also visited, she said.
Visitors actually listen to the music instead of just using it as a backdrop for conversation or absorption, she said. In addition, they often have the opportunity to meet and get to know performers.
The result is like a community growing within a community, Morrison continued. It's the one that singers and musicians have said they enjoy performing in, as well as the one that attracts them and music lovers, time and time again, she said.
As a program director and a musician herself, "I loved employing musicians, giving them a place to perform and be heard," she added.
Artists from all over the world have come to the Barns.
"A lot of artists say it's their favorite place," Morrison said, because of its intimacy.
Still, coordinating and programming performances, as well as developing exhibitions and other activities, is demanding work, she stressed.
There are things she wants to devote more attention to, including taking care of an older member of her family and performing in the band Furnace Mountain. She plays string instruments, including guitar and octave mandolin.
"I was able to play here" at Barns of Rose Hill with the band, Morrison said, "but not as much as I wanted to."
Working all day and then playing at night can be tedious, she said.
The institution is advertising for a new Marketing and Outreach Coordinator position. However, Borger said it felt natural to take responsibility for programming as well.
"I already have a working relationship with just about every artist" who performs at the Barns and their booking agents, he said, after speaking with them during pre-concert preparations.
His new title has not been determined. He speculated, however, that it would be along the lines of "director of operations and programming".
"I'm still thinking about the scope of (new) work," said Borger, who has worked for Barns of Rose Hill for nine years and full-time since 2016.
Hee is just beginning to think of ways to expand and improve the Barns' offerings. But he is committed to continuing his tradition of partnering with other organizations and the community at large for ideas and support.
So far "we've built a really solid foundation" of support and cooperation, from board members to volunteers to visitors, he said. "I'm going to make sure it stays that way."
To learn more about Barns of Rose Hill, visit grangesofrosehill.org.